by Marg Fedyna
November 15, 2014 (Hualien Qixingtan, Taiwan) – The Taiwan KOM Challenge is a one-day road bike race that starts in the eastern coastal village of Hualien Qixingtan at sea level and travels 105 km through the breath-taking Taroko Gorge to finish at WuLing, Mt Hehuan at 3,275 metres.
No problem, those stats sound similar to a day in an Haute Route race in the Alps and Pyrenees that I had ridden this summer. A typical Haute Route stage has a similar elevation gain over three separate climbs, with descents in between allowing a welcome break from the climb.
The major difference with the Taiwan KOM Challenge: It is one continuous climb! The toughest gradients are closer to the top of the course, while the thinner oxygen levels increase the effort greatly.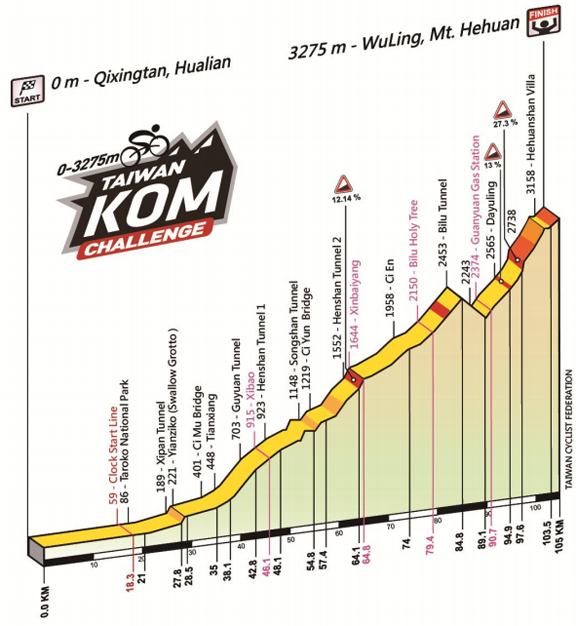 The only major descent in the course is at the 85km mark for 4.3km. Up until then, the average grade is roughly 7%. After that, it will be a survival race to the top with an average of 17% including a section of 27.3%. Tough to imagine!
Previous KOM competitors stress the last 8km's are extremely challenging. Pro rider Lee Rodgers, who is the Director of Communications for the race, stated the event is "beautiful beyond words, but I'm happy in the car." He has "done it twice and that was like open heart surgery without anaesthetic – twice!"
His description made the race even more enticing to enter, so I could experience it myself!
A significant prize purse will be awarded with the top male receiving one million dollars ($37,000 CDN) with the top female receiving 200,000 dollars ($7,400 CDN). Equal prize money will hopefully eventually come to this event as it continues to draw top female riders.
Joanne Hogan from Australia, recently racing for Team Bigla out of Spain, is excited to be sporting Rapha gear and has her eye on the top spot.
The recently retired Nicole Cooke with an amazing list of cycling achievements (Commonwealth, Olympic, World, Giro and women's Tour de France winner) is here as a cycle journalist. When asked if she misses racing, she confidently replied "no".
Featured rider is Will Routley from Canada riding for Team Optum Pro Cycling presented by Kelly Benefit Strategies, who made the trip over with his dad Tony Routley.
Knowing that he was settled into his off-season, spending time on his farm in Abbotsford, Will acknowledged at an interview after the press conference that "regardless of the form, I'm going to go as hard as I can."
Half of the racers are from Taiwan with the other half being international. A handful of Canadians are noted on the starting list.
An intriguing team to follow is the Kenyan Riders with their future goal to be the first African cycling team at the 2016 Tour de France. The Kenyans are known as exceptional runners and are taking steps to build towards cycling.
A significant feature of this non-UCI race is a doping control system to be run by the Chinese Taipei Olympic Committee. The organizer will not allow riders as participants who have previous records of doping. As an advocate for anti-doping, Will stated that the new rule was part of his decision to attend this event.
The event begins 6:30 a.m. Saturday November 15 with 473 racers from 28 countries taking on the challenge.
Many thanks to the Taiwan Tourism Bureau, the Taiwan Cyclist Federation, Lee Rodgers and Gary Shu for the support to participate at this event.
http://pedalmag.com/taiwan-kom-challenge-canadas-routley-on-board/